Winner of Senior Open Championship a Patient of Florida's Deuk Spine Institute
Melbourne, FL – American pro golfer, Marco Dawson, held off golf superstars, Bernhard Langer and Colin Montgomerie, to claim victory in what was an exciting end to the Senior Open Championship on Sunday, July 26th, 2015. Dawson, one of the world's top ten golfers, finished with a 16-under-par total of 264 to take his second title on the Senior Tour this year after more than four hundred games without a win. Preparing for victory, Dawson underwent two previous back surgeries, and now trusts his neck and back exclusively to the board certified neuro- spine specialists at Deuk Spine Institute in Melbourne, Florida.
"Can't tell you how many hours I've put in on the range," Mr. Dawson told reporters following his victory. "I've had two back surgeries to prove it and I know it has come later than most of the guys. But it came true." Mr. Dawson is an integrated pain management patient with neuro-spine surgeon, Dr. Ara Deukmedjian of Deuk Spine Institute.
According to Dr. Deuk "Marco searched far and wide for the right specialist to help him with his chronic back pain. In doing so, he has seen multiple specialists and decided to trust his neck and back to us." He continues, "Not only is this a big win for the Deuk Spine family, but also the state of Florida."
"The three-wood I hit in the mist and rain at the 14th was probably one of the best I have ever hit and set up the eagle," explained Dawson to reporters. Mr. Dawson, who also reported having fun playing golf in England will play at Royal Troon in The Open Championship in 2016. Dr. Deuk and team will be on hand to care for and ensure Mr. Dawson's neck and back are at their peak performance.
It's no coincidence pro golfer Marco Dawson selected "Dr. Deuk" and Deuk Spine Institute to care for his neck and back. Dr. Deuk is a renowned neuro-spine surgeon and field pioneer with a focus on minimally invasive, laser and endoscopic back and neck pain treatment. He serves as CEO and Medical Director at Deuk Spine Institute and performs the revolutionary procedure that bears his name: Deuk Laser Disc Repair®. Dr. Deuk has also personally performed over 2,000 cervical decompressive discectomies and treated over 1,000 herniated or degenerated lumbar discs with no major complications in addition to over 300 laser spine surgeries with a 95% success rate in elimination of pain.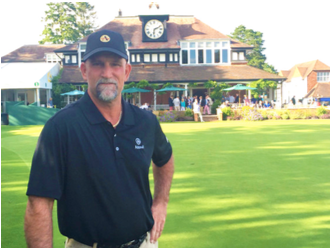 Marco Dawson Trusts His Back and Neck Exclusively to Florida's Dr. Ara Deukmedjian and Team of Deuk Spine Institute.