Deuk Laser Disc Repair vs Traditional Spinal Fusion Comparison
See the dramatic difference between a traditional spinal fusion and the revolutionary Deuk Laser Disc Repair. In this first of its kind side by side video, see why the Deuk Laser Disc Repair is proven to be the most successful and least damaging spinal surgery in the world for the treatment of symptomatic damaged discs causing back pain, neck pain, sciatica, and radiculopathy due to herniated, degenerated or bulging discs.
Spine Surgery – Deuk Laser Disc Repair
  Deuk Laser Disc Repair® is the most successful and least damaging spinal surgery available in the world for the treatment of back and neck pain. This minimally invasive procedure was developed by Ara Deukmedjian, MD founder and CEO of Deuk Spine Institute and world renowned neurosurgeon.
     Traditional surgical treatment of many disc conditions, such as herniated or bulging discs, sciatica, spinal stenosis, and pinched nerves are very invasive and can take weeks to recover. Anterior cervical discectomy and fusion (ACDF) and arthroplasty are examples of traditional surgical treatments. Such procedures completely remove the disc and replace it with an artificial implant. These surgeries are many times unnecessary and inflict significant collateral damage to otherwise healthy tissue. Deuk Laser Disc Repair® is distinct from these procedures in its ability to repair the existing disc instead of sacrificing it completely. Not only is the disc repaired, but the method of repair is safer than any other spine surgery in the world and does not compromise the stability of the spine. Simply put, Deuk Laser Disc Repair® has transformed spinal surgery as we know it.
Results
The Deuk Laser Disc Repair has the highest success ratios of any spine surgery. A prospective cohort of 66 consecutive patients underwent cervical Deuk Laser Disc Repair ® for one (n = 21) or two adjacent (n = 45) symptomatic levels of cervical disc disease and were evaluated postoperatively for resolution of headache, neck pain, arm pain, and radicular symptoms. All patients were candidates for anterior cervical discectomy and fusion (ACDF) or arthroplasty. The Mann-Whitney Wilcoxon test was used to calculate P values.
Conclusion: Deuk Laser Disc Repair ® is a safe and effective alternative to ACDF or arthroplasty for the treatment of one or two adjacent symptomatic cervical disc herniations with an overall success rate of 94.6%.
Average symptom resolution

94.6%

94.6%

Fifty percent had 100% resolution of all preoperative cervicogenic symptoms

100%

100%

Only 4.5% had less than 80% resolution of preoperative symptoms

80%

80%

Recurrent disc herniation occurred in only 1.5%of patients

1.5%

1.5%
Spine Surgery – Deuk Spinal Fusion
Deuk Spinal Fusion is the most effective option available in modern spinal fusion techniques in healthcare. Boasting an almost non-existent complication rate of less than 1%, we are able to get patients back home within a day and back to work in half the time of traditional spinal fusion.
Deuk Spinal Fusion simply put is a modern fusion of one or more vertebrae in the spine. Using only the best in available hardware we are able to clean out Degenerative Discs that are causing pain and fuse the surrounding vertebrae together, stabilizing the spine and preventing further discomfort in the problematic disc.
Patients undergoing Deuk Spinal Fusion experience the benefits of an accelerated recovery time over traditional spinal fusions. By minimizing collateral damage to soft tissues and bone, we are able to get patients out of the hospital and back home within 1 day and back to work in as little as 2 weeks. Other traditional spinal fusion procedures have an average recovery time of 3-5 days in the hospital and up to 6 months before returning to work.
Deuk Spinal Fusion is meant to help strengthen the spine where prior damage from Degenerative Discs or Arthritis may have caused discomfort or pain. Patients who seek treatment via Deuk Spinal Fusion often are faced with debilitating numbness, tingling, soreness, pain and loss of motion or coordination due to pinched nerves as a result of herniated discs or bone spurs. What we are able to do is remove the problematic disc, effectively eliminating the source of the pain and irritation. Once removed, the space that was once occupied by the pain causing disc is now fused with bone to prevent any movement between the two vertebrae. Finally, we are able to lock the vertebrae in place using high quality medical grade rods and screws.
If you have a Herniated Disc or are suffering from some form of Spinal Stenosis, don't hesitate to contact Surgery Center of Viera for more information on our spectacular Deuk Spinal Fusion. With the quickest recovery time available, Deuk Spine Institute can get you back to work in half the time it would take with traditional spinal fusions.
"The Care is Much Better than Any Hospital! – I would know I'm A Nurse!"
Terry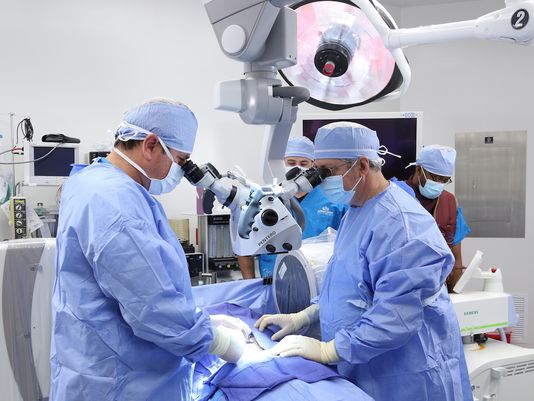 Dr. Ara J. Deukmedjian of the Deuk Spine Institute performs surgery assisted by Augusto Cianciabella, Photo courtesy of Deuk Spine Institute.
Spine surgery in Brevard now comes with a guarantee
Maria Sonnenberg, For FLORIDA TODAY  1:58 p.m. EST January 8, 2015
Medicine is a field without guarantees, but that may be about to change, at least in spinal surgery.
Dr. Ara Deukmedjian, aka Dr. Deuk, a neuro-spine surgeon with Deuk Spine Institute in Melbourne and Surgery Center of Viera, is now offering warranties for spine surgeries. Under the new warranty, Deukmedjian's practice assures its patients that their back pain will be eliminated after surgery. If not, any additional treatments will be provided at no cost.
The warranty covers the area of the spine where the surgery took place, be it the cervical or lumbar region. It does not cover both. All services must be provided at the Deuk Spine Institute and Surgery Center of Viera.
Deukmedjian instituted the new warranty program a couple of months ago after years of research. Working with Millennium Medical Management and other advisers to develop the warranty, Deukmedjian now guarantees that his practice will eliminate all back pain, chronic or not.
"It was born out of the fact that our surgical practice does extremely well," said Deukmedjian.
"We're able to offer the warranty because we have proven outcomes, thanks to our ability to offer all the services a patient needs in-network. We do diagnostic testing, therapy, medication, interventional pain management and surgery as part of the package. Because of this, we're willing to stand behind our results, to cover any additional treatment the patient may need."
"It's a win-win-win situation," said Deukmedjian.
Data on the office's rate of infections and complications fueled Deukmedjian's decision to institute the warranty.
Deukmedjian admits that he is able to offer the warranty because he performs these procedures at the Surgery Center in Viera and not at a hospital, even though he is on staff at Parrish and Wuesthoff Medical Centers and at Viera Hospital.
"Most surgeons do this type of surgery at a hospital, and surgeons, even if they have great outcomes, don't own the hospital," said Deukmedjian. "This warranty model would not work in a hospital setting."
The Deuk Spine Institute specializes in minimally invasive laser surgery. In addition to ambulatory surgery, the Deuk Spine Institute includes all the elements of comprehensive spine care under one roof, so it can control the cost of care.
"It lowers administrative costs," said Deukmedjian. "If there is no additional treatment needed, then there is no additional cost to us."
Initial interest in the new Deuk warranty has been brisk.
"The response has been fantastic from patients, insurance companies and work comp carriers," said John Stewart, vice president of business development at Deuk Spine Institute.
While the warranty can seem very tempting to patients and insurers, there is a caveat. An additional cost must be paid by the insurer or patient in order for the warranty to be in effect.
"The warranty differs in price depending on what type of procedure is performed," said Stewart.
The warranty is primarily aimed at workers' comp and to self-insured companies such as Harris Corporation or Embraer and self-paying patients.
"Risk is mitigated up front," said Deukmedjian.
"The company knows it doesn't have to spend any more money. We think it can be very attractive for workers' comp, since they own the injury for the rest of the patient's life."
For patients, there is also a considerable convenience factor. Once a patient under the warranty need additional care, he or she would not have to seek and wait for payer approval for diagnostic testing and treatment, since all costs are already covered. Per agreement, patients do not need to make co-pays after the initial payment.
From the standpoint of major insurance carriers, the warranty may not be as attractive. Providing long-term assurance that treatment will be administered at no cost down the road may not resonate with carriers that see significant turnover in enrollment numbers as employees leave for other jobs and other carriers.
Individual patients can opt to pay for the warranty even if their insurance company does not cover the costs.
"We have quite a few finance options for a patient to self-pay," said Stewart.
Warranty costs vary according to the age of the patient. Deuk Spine Institute assumes risk for care of the patient's spine in the same region where surgery was performed from day one to the end of the total number of years purchased. The warranty can be purchased in one-year increments up to the patient's lifetime.
So far, Deukmedjian has not had to make good on the warranty, since none of the patients has treated have developed any problems since their surgery. That is as he expected.
"The warranty is so new people are having a hard time fathoming how we can actually do this," said Stewart.
"In order to offer this you have to have very predictable surgical outcomes."